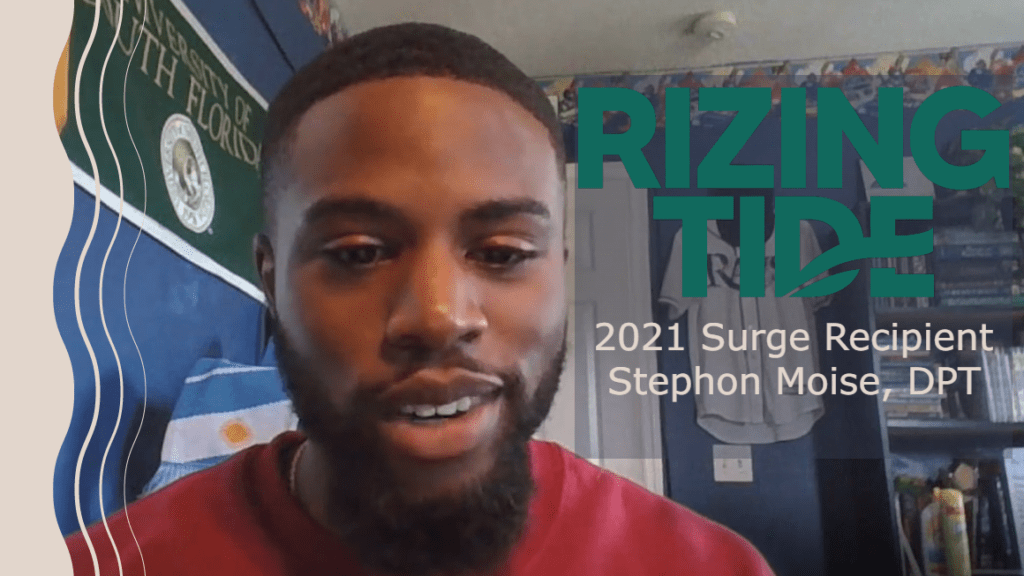 From Athletics to Medicine: Meet Rizing Tide Scholar Stephon Moise
This is the final 2021 installment of the Rizing Tide's Lighthouse Series, a string of interviews spotlighting our exceptional scholars. We've introduced our full 2021 cohort, so the Lighthouse will return later this year to unveil to a new group of bright and tenacious PT students!
Physical therapy is an amazing field of medicine. It's no coincidence that once someone learns more about it—especially an athlete who's interested in the intersection of medicine and sports—they find a passion for the field. This is the origin story of many modern PTs—including orthopedic resident Stephon Moise, DPT.
As a former soccer athlete, Stephon was introduced to physical therapy when he took an athletic training course during high school. The intersection of anatomy, athletic training, and musculoskeletal rehabilitation caught his interest, and it wasn't long before he decided to pursue PT in college. During college, his focus shifted from sports to orthopedics. "Through my clinical internships and my experiences in school, I found that orthopedics was also really cool and interesting, and it didn't have to just be athletes that I was treating with. That's why I decided to go into orthopedics instead of sports."
After completing his DPT at the University of Central Florida, Stephon knew he wanted more education and training, but he was torn between residency and specialization. "One of the things that I really wanted to focus on was getting that mentorship and networking with other physical therapists just to improve my skills interprofessionally—and then also get good feedback as far as my practice goes." That's why he ultimately chose the residency route. "For me, it was more important to have that network and to really feel like I was part of something bigger than myself."
During his residency, Stephon has become more familiar and comfortable with the orthopedic setting. "I've gotten to shadow some orthopedic physicians, which has been good to see their workflow and to get an idea of how they refer patients to PT." He's also learned how to stay on his toes while practicing PT and resist falling into treatment habits. "The most challenging aspects I think, are being able to take feedback and incorporate new things into your practice. I think it can get very easy to get into a habit of doing the same things. Especially when you get into an everyday workflow and you're just focused on maybe trying to get your documentation done or, you know, making sure that you're not overextending yourself."
In his current setting, Stephon has witnessed first-hand the pressing need to diversify the PT workforce. He often works with patients who don't speak English; sometimes he can call in a translator, but occasionally, he has to translate himself. "There's a huge communication barrier that can exist, and that does affect patient outcomes. And it's so important to have people from different backgrounds that can help the patient feel more comfortable and really break down those barriers that can sometimes hinder patient care."
After completing his residency, Stephon plans to continue working in an outpatient center. Eventually, he aims to work in a nonprofit, providing pro bono care to underserved patients. "I do want to be able to have that impact in my community for people who don't necessarily have the access to health insurance, or traditional means of getting physical therapy treatment."
The Rizing Tide team is honored to have Stephon as one of our Surge scholars. We can't wait to see where his career takes him!

Rizing Tide is a scholarship program designed to empower a new generation of BIPOC leaders in the physical therapy profession. We partner with PT and PTA students, PT residents, and industry leaders to advance diversity and inclusiveness in the physical therapy workforce and inspire better—and more accessible—patient care.