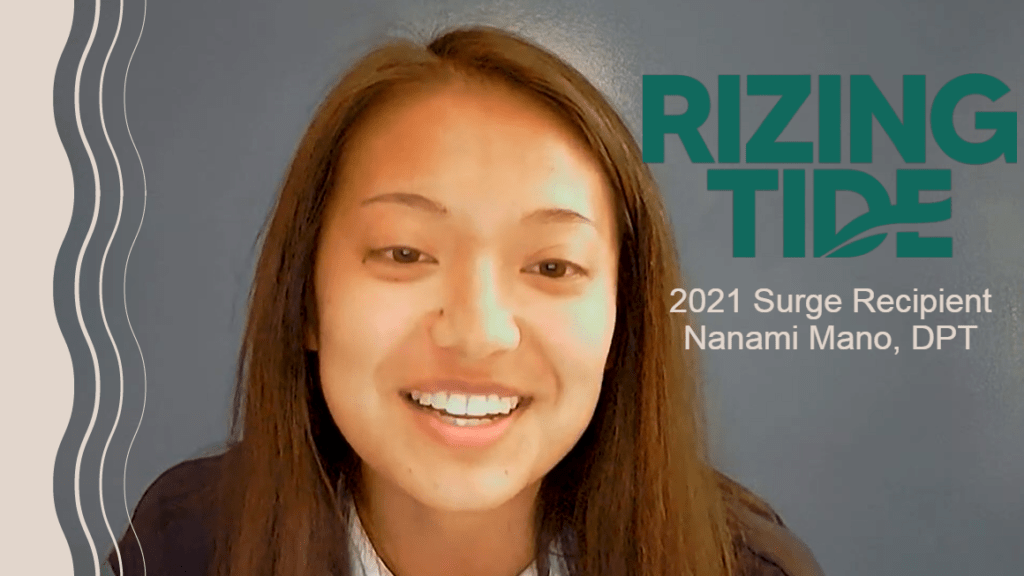 Assisting the Global Geriatric Population: Meet Rizing Tide Scholar Nanami Mano
This is the seventh installment of Rizing Tide's Lighthouse Series which spotlights our exceptional scholars. Stay tuned for the next installment!
Physical therapy's movement-focused approach to medicine and patient care acts like a magnet for some aspiring healthcare workers—and Nanami Mano, DPT, was no different. She first encountered the field in high school when she observed different professionals in the field, and she knew from that moment on that she wanted to become a PT.
But it wasn't until Nanami's college years, when her grandmother (who lived in Japan) battled Parkinson's and the aftermath of a stroke, that she discovered her interest in geriatric care. "I was able to visit her and observe physical therapists in another country—and how they treated, and the differences, especially because in Japan the geriatric population is growing exponentially more than it is here."
After graduating from Slippery Rock University in Pennsylvania, Nanami joined the geriatric residency program at the University of Pittsburgh Medical Center (UPMC) for its teaching opportunities, mentorship relationships, and supportive community. At her program, she has enjoyed the unique opportunity to get together with other medical residents, fellows, pharmacy residents, pharmacists, and geriatric clinicians to learn from each other. "We have week to week meetings where we listen to presentations given by each other and learn about different disciplines." But Nanami has most appreciated the teaching opportunities at her program. "I really like being around students and getting to provide the knowledge and also learn more about them as well."
Nanami's DPT schooling before the COVID-19 pandemic—and she graduated smack in the middle of it, giving her a crystal-clear picture of some inequities in the healthcare system. "It brought more attention to the fact that we are seeing ageism, racial inequalities, and health disparities…in healthcare." These issues have shown Nanami the importance of workforce diversity in physical therapy. "I think having a more diverse workforce would allow others in the facility, in the clinic that you're in, your coworkers—to be able to learn about different cultures and to be able to recognize inequality and disparities, even though you might not be an underrepresented individual."
As for her future plans, Nanami is looking toward her various passions and interests to chart her path forward. She wants to continue advocating for geriatric care and to eventually pursue a license in Japan. Rizing Tide is honored to have Nanami as one of our Surge Scholars. "It's definitely an honor to be a part of this group. I think it gives me an opportunity to be able to connect to and reach out to underrepresented PTs and also student PTs—and being able to encourage them to go through specialization training, and continue to build a group so we can learn and mentor from each other."

Rizing Tide is a scholarship program designed to empower a new generation of BIPOC leaders in the physical therapy profession. We partner with PT and PTA students, PT residents, and industry leaders to advance diversity and inclusiveness in the physical therapy workforce and inspire better—and more accessible—patient care.