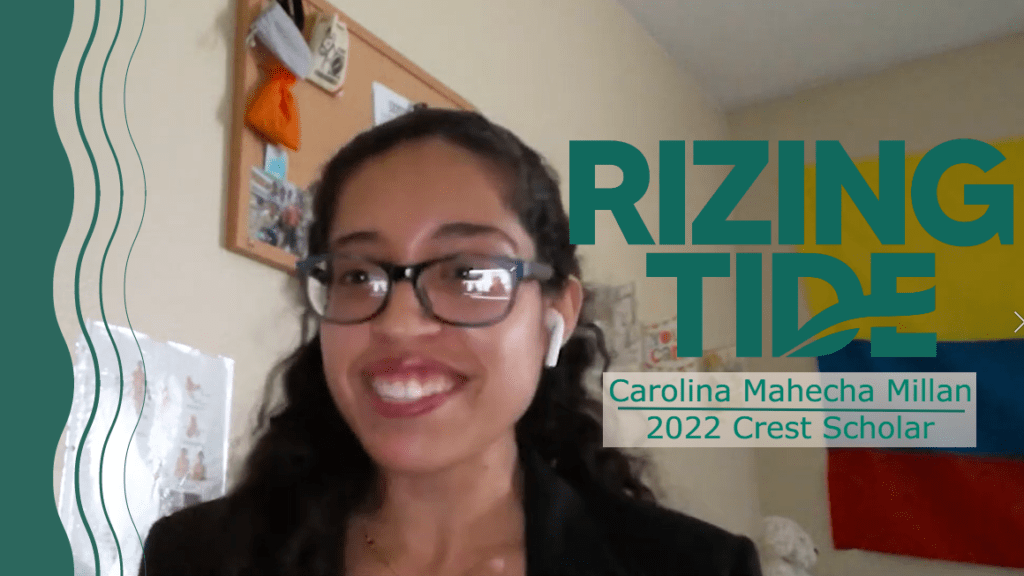 The Power of Mentorship: Meet Rizing Tide Scholar Carolina Mahecha Millan
This is the tenth installment of the 2022 Rizing Tide Lighthouse Series: a series of blogs and video interviews that spotlight our exceptional scholars. Stay tuned for the next installment!
Carolina Mahecha Millan is a physical therapy student at Florida Agricultural and Mechanical University (FAMU) who is excited to break away from the norms of her hometown. "I am one of two Spanish people in my class and I absolutely love it," says Carolina. "It's something that I'm not used to because I'm from Tampa. I'm from a place where everybody speaks Spanish, but I am so blessed to be surrounded by people that are so diverse, and it's just a genuine feeling. I really love everything about it."
But that's not the only thing Carolina appreciates about her PT school experience. While she finds the program to be a little stressful, she's still overwhelmingly grateful for the experience—especially since it wasn't her original career path.
When planning out her future, Carolina initially wanted to be a pediatric neurologist. She had the opportunity to shadow one, but quickly realized that specialty wasn't the right path for her. (She wanted to spend more time with patients!) After taking a personality quiz that directed her attention toward PT, she shadowed in a skilled nursing facility and ultimately worked in an acute setting at a hospital as a rehab tech. Carolina finally felt like she found her calling, and she began to pursue the DPT degree.
As for other pre-PT students, Carolina urges them to prepare for the workload and to remember that they're choosing this difficult path for a purpose. Passion and determination are critical in the DPT program; they have both helped Carolina succeed!
Carolina believes that the future of the PT industry is bright, and that it will continue to grow, become more diverse, and reach more people. "I predict—and I don't know if this is just me being surrounded by physical therapy left and right—there's just going to be so much growth…It's a beautiful thing that this field is growing to the point that it is."
That's not to say that the field is perfect; Carolina has experienced the lack of diversity in the physical therapy field first-hand. "For example, when I was shadowing and I was being called as a translator instead of as a tech, I kind of started realizing maybe there should be more Spanish-speaking people in this field."
But Carolina knows that she is not alone and that she can rely on the might of the Rizing Tide network. She is excited that she's already connected with so many industry giants and hopes to use them as a resource. But what really means the most to Carolina is that someone believed in her enough to award her a scholarship.
As a Rizing Tide scholar, Carolina is most looking forward to both finding a mentor and becoming a mentor for a future class of scholars. "I'm most looking forward to the mentorship process of it all," she says. "If someone's pouring into me, if a whole organization is pouring into me, I have to be able to pour back into it." For Carolina, she's determined to not simply take, but to give back tenfold.

Rizing Tide is a scholarship program designed to empower a new generation of BIPOC leaders in the physical therapy profession. We partner with PT and PTA students, PT residents, and industry leaders to advance diversity and inclusiveness in the physical therapy workforce and inspire better—and more accessible—patient care.