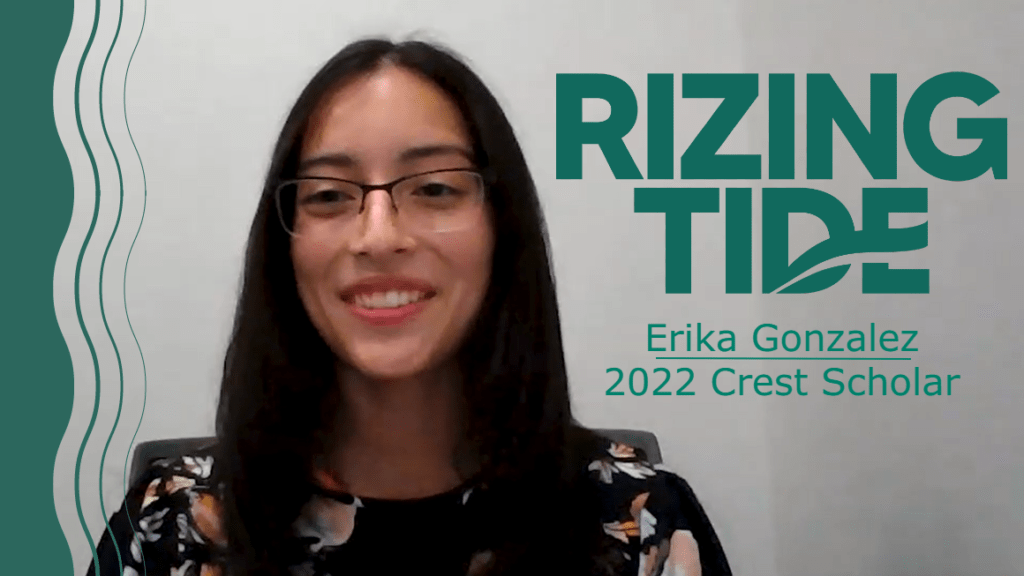 Finding Her PT Zen: Meet Rizing Tide Scholar Erika Gonzalez
This is the ninth installment of the 2022 Rizing Tide Lighthouse Series: a series of blogs and video interviews that spotlight our exceptional scholars. Stay tuned for the next installment!
When asked why she chose to attend Texas State University's physical therapy program, Erika Gonzalez—a 2022 Crest scholar—says that it all came down to some incredible first-hand experiences. During undergrad, Erika volunteered at the PT clinic at Texas State's Round Rock campus—and she was fascinated by the environment. "I got to see students using really high technology with their patients and doing pretty diverse and unique treatment plans." She also assisted a DPT with pediatric hippotherapy research that centered around mechanical horses. "All of these volunteer experiences at the Round Rock campus really reassured and reaffirmed my desire to attend Texas State University," Erika says.
Long before her days of assisting with mechanical horses, Erika's interest in physical therapy blossomed from her passion for yoga. Though she originally considered becoming a yoga teacher, Erika recognized its career limitations and began exploring other options. When she stumbled across physical therapy, Erika was delightfully surprised. Not only was it similar to yoga therapy, it combined both evidence-based and holistic healing.
Now in the second year of her DPT program, Erika says that things are going well. She survived what she calls the notoriously difficult first year, where she felt like she was constantly bombarded with information. Year two has allowed her more time to participate in extracurricular activities, such as volunteering at the community access clinic. "That was a very rewarding time," Erika says of her experience translating for Spanish-speaking patients. "And now I'm beginning the process of starting to treat in the community access clinic. So that's really exciting."
For pre-PT students who are curious about the acceptance process, Erika offers this advice: "The PT application process is pretty streamlined because there's a centralized application website called PTCAS. So, you can read all the essay prompts there and submit all the required documents through one website." She recommends using the PTCAS directory to compare different program requirements and take advantage of the fee waiver offered by the website. When it comes to the interview and acceptance process, Erika advises students to prepare a few key experiences and to keep all options open until a final decision can be made.
Erika's passion and dedication to physical therapy is unmistakable. She serves as an inspiration and a reminder that helping others through movement and holistic medicine is one of the most rewarding gigs around.

Rizing Tide is a scholarship program designed to empower a new generation of BIPOC leaders in the physical therapy profession. We partner with PT and PTA students, PT residents, and industry leaders to advance diversity and inclusiveness in the physical therapy workforce and inspire better—and more accessible—patient care.