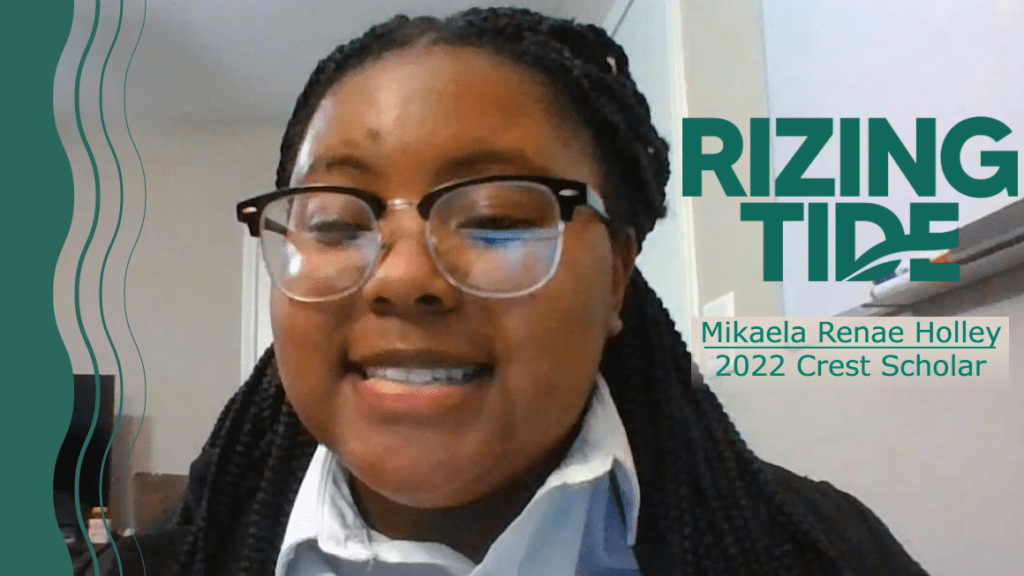 Supporting Others and Making Waves: Meet Rizing Tide Scholar Mikaela Renae Holley
This is the fifth installment of the 2022 Rizing Tide Lighthouse Series: a series of blogs and video interviews that spotlight our exceptional scholars. Stay tuned for the next installment!
Mikaela Renae Holley knew she wanted to attend a DPT program where she could grow. So, when she heard her friends speak highly of the classes and faculty at the University of Alabama at Birmingham, she knew she had to apply. Now, one semester into UAB's DPT curriculum, Mikaela describes her experience in three words: transformation, transition, and flexibility. "The first semester I was just trying to be good at everything, trying to do everything every single day, seven days a week, study every single day," she says. But Mikaela came to realize that wasn't sustainable, and decided to be more realistic about her limits. "Second semester I scaled back a whole lot."
While Mikaela's PT dreams are big, her interest in physical therapy started small, when she watched a movie about a Black physical therapist: Just Wright. At the time she watched the movie, Mikaela was an athlete—and the thought of working with athletes piqued her curiosity. Then, during her senior year of high school, Mikaela was involved in a bad car accident. She attended physical therapy on her doctor's orders—and not only did it aid her recovery, it helped her choose her future. "I knew then I wanted to do PT after I had the actual experience myself, and they actually helped me with my recovery, along with my faith."
Though she's just begun her schooling, Mikaela is already nurturing an interest in pelvic health physical therapy—specifically because she'd like to help African American women who suffer from postpartum depression. Additionally, Mikaela wants to help the growing geriatric patient population maintain a high quality of life as they continue to age. She believes that helping underserved patients is deeply important, and that direct access is key to changing the face of the PT industry. "I foresee diversity going up because not only are people seeing it as a problem, but they're becoming a part of the solution, and that's what we need."
At UAB, Mikaela receives support from both her peers and the faculty. Her DPT program director is the one who encouraged students to apply for Rizing Tide's Crest scholarship—and her classmates encouraged her to apply. The Rizing Tide interview process left Mikaela feeling relaxed. "It was a very peaceful and positive experience." Since becoming a Rizing Tide scholar, Mikaela has found herself wanting to be a better PT. "I definitely see Rizing Tide being a part of my career—even beyond PT school. I want to be a part of the platform."
After PT school, Mikaela wants to serve the African American community and advocate for the PT profession as a whole. She wants to leave a legacy that will one day inspire and empower other people. "I want to have more and more people interested in physical therapy, because I didn't have a whole lot of support in my journey to physical therapy. But now that I do, I'm going to use that to my advantage, to help other people."

Rizing Tide is a scholarship program designed to empower a new generation of BIPOC leaders in the physical therapy profession. We partner with PT and PTA students, PT residents, and industry leaders to advance diversity and inclusiveness in the physical therapy workforce and inspire better—and more accessible—patient care.