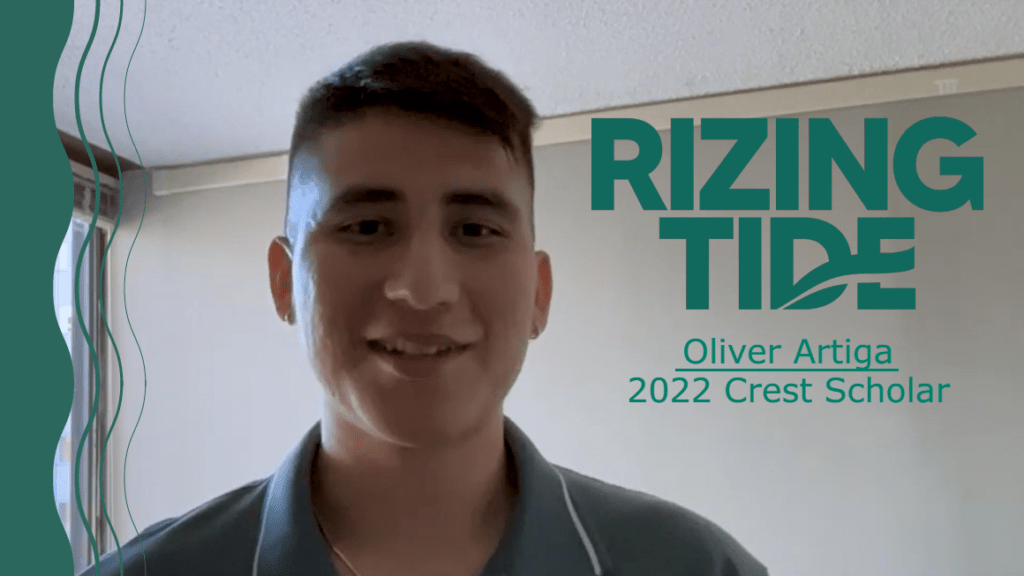 A Heart for the Hardworking: Meet Rizing Tide Scholar Oliver Artiga
This is the third installment of the 2022 Rizing Tide Lighthouse Series: a series of blogs and video interviews that spotlight our exceptional scholars. Stay tuned for the next installment!
After watching his parents work hard and endure major physical toil in their blue-collar careers, Oliver Artiga began to research the injury risks associated with physical labor—especially for cleaning, maintenance, and facilities workers. But Oliver's research left him with more questions than answers and (after talking with his supervisor) he realized that he could find his answers in the field of physical therapy. Oliver now attends Northwestern University's DPT program.
Raised in California, Oliver originally planned to apply to schools exclusively on the West Coast. But during his program search, he stumbled across Northwestern and its commitment to social responsibility and inclusion—something that totally caught Oliver's attention. He applied, was accepted, and now thinks of Northwestern as his dream school. Oliver is often encouraged by his classmates' passion and interest in the field of physical therapy, motivating him to work hard at his own schooling.
Though he's not yet sure which specialty to pursue (in his words, he has a lot left to explore), Oliver says his "first love" is orthopedics. "It regards heavily to the work I want to do, and that's working with folks who, like my parents, are coming from physically arduous work, and helping them rehabilitate."
To students who are considering this degree, Oliver says, "Stay true to yourself…I feel like programs are out there looking for well-rounded students who really have an interest for the program, because it does them, and you, a disservice if they're just looking for the same cookie cutter mold."
He continues to explain that physical therapy is a very versatile field, so students don't need to change their story so you fit a mold. "There's so many subfields within it that different people, with different perspectives and different walks of life, will heavily impact it in whatever way they choose."
Though he's only been a Crest scholar for a short amount of time, Oliver is already deeply excited about the connections he's made through Rizing Tide. "Seeing just a wide range of PTs from different backgrounds, that weren't just white, was actually really exciting." Now that he is a Rizing Tide scholar, Oliver has wide access to a network of mentors and alumni who are all PTs of color. He also hopes to be able to contribute to this network in the future as well. "I can't thank the Rizing Tide organization enough for believing in me and investing in my future."
Diversity and inclusivity are very important to Oliver, and he predicts that diversity in the physical therapy industry will only increase from here. "Cultural humility is just a big thing going across the healthcare field now." Oliver hopes to impact the PT industry by paying forward the kindness he has received. "I want to continue working on how we can think about cultural humility, and how it impacts the physical therapy field." He also hopes to work more with blue collar workers and to help mitigate the high risk of injury in those careers.

Rizing Tide is a scholarship program designed to empower a new generation of BIPOC leaders in the physical therapy profession. We partner with PT and PTA students, PT residents, and industry leaders to advance diversity and inclusiveness in the physical therapy workforce and inspire better—and more accessible—patient care.