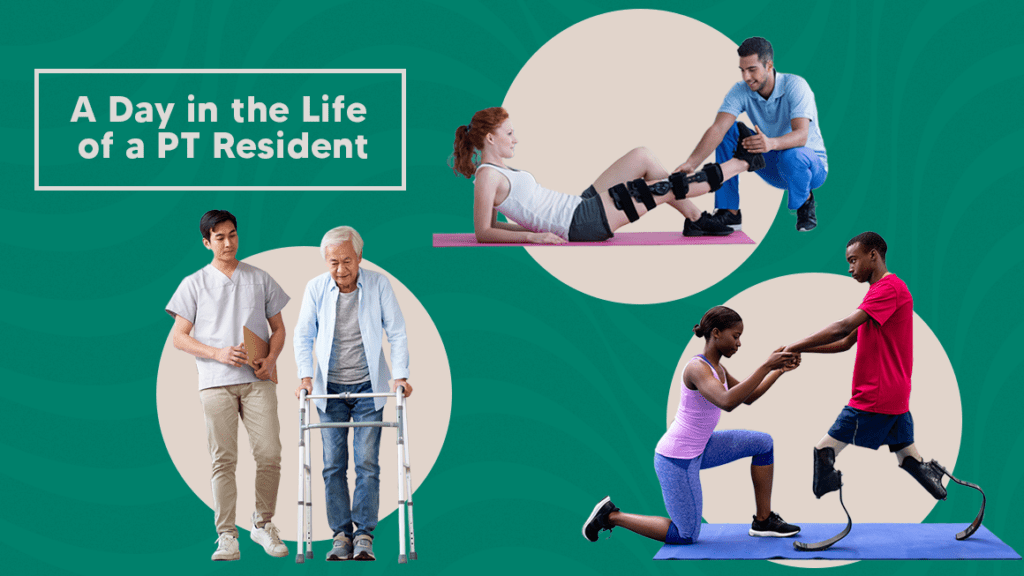 A Day in the Life of a PT Resident
Attending a physical therapy residency program is a big commitment. Not only are DPT residencies incredibly work-intensive, they're often extremely competitive and can come parceled with serious financial burden.
So, as a new grad DPT or a DPT who's looking to specialize in their career, you might be asking yourself, "is physical therapy residency worth it?" or "what are PT residencies even like?" While we can't tell you if a residency is a good fit for you personally, we can give some insight from three DPTs who are finishing up their own residencies. Meet Rizing Tide scholars (and PT residents) Nanami Mano, DPT; Stephon Moise, DPT; and Uzair Hammad, DPT. These three superstar physical therapists attended different residencies (all in different specialties) and have taken the time to offer a rundown of their perspectives and experiences.
Geriatric PT Residency: A Day in the Life of Nanami Mano
What does a typical day look like at your residency program?
Every program is different (even between specialties within the same institution), but I can at least speak to my geriatric PT residency. During the week, I'm working in the clinic for 30 hours and spending 10+ hours doing residency work that varies every week. Residency work includes:
Self-studying for the Geriatric Certification Specialty board exam,
Observing specialty practice (e.g., low vision, drivers rehab, Centers for Assistive Technology, hospice and palliative care, memory clinic, and more!),
Taking learning modules/CEU or certification courses,
Working on in-service/community/grand rounds presentations,
Writing up mentoring forms,
Attending conferences, and
Teaching at University of Pittsburgh's DPT program.
The caseload varies based on setting, and I am/will be rotating through all settings (like home health, skilled nursing facility, acute care and general/trauma/neuro/transplant/cardiopulmonary ICU, inpatient rehab, outpatient)—all while working with patients who are 60+ years old.
How has your residency helped you, and what have you learned?
Being able to experience so many PT settings has been great as I'm now able to confidently treat older adults in multiple settings and understand the continuum of care. This provides me with many options to choose from when I look for a job at the end of residency. I have a great network of mentors who have taught me and who I can reach out to during my career.
I have to prepare a good number of presentations throughout the program; that is, I'm leading presentations for:
Other geriatric-specializing clinicians (e.g., physicians, pharmacists, medical or pharmacy fellows and residents),
Employees in each clinical setting,
Students, and
Community-dwelling older adults.
I've learned how to communicate and present content effectively for varying audiences with different backgrounds. Also, I went straight into residency from DPT school, so being a new grad and immediately getting teaching experience and becoming adjunct faculty at the University of Pittsburgh has been a great benefit since I wish to teach in the future.
What do you enjoy most about your residency?
I enjoy working and interacting with DPT students at the University of Pittsburgh and sharing clinical pearls!
What's the toughest part about your residency?
It's tough to balance between being an employee in the clinic and also being "in training" where there's more obligations and responsibilities.
What advice would you give to a prospective DPT resident?
If and when you are given PTO benefits, don't be afraid to take them! It is hard since you have the mindset that you're in a residency program to learn—and it can be difficult to take PTO based on how the program is structured. But it's possible to take PTO when you strategically plan your schedule for the duration of the program. It's a job after all and is quite the time commitment—you deserve breaks for your well-being and mental health!
Orthopedic PT Residency: A Day in the Life of Stephon Moise
What does a typical day look like at your residency program?
A typical day in my residency program is never really typical! But I'll do my best to describe some of the usual happenings. On an average weekday, my caseload is 12–15 patients. However, since our program requires us to work in the clinic 36 hours per week, the residents have some extra time to take on other projects and responsibilities.
Depending on the week, I will spend time Tuesday and Thursday mornings completing chart reviews, preparing case studies and interprofesional presentations, taking leadership courses, reading current evidence, shadowing orthopedic physicians, and volunteering in a pro bono clinic.
Every Wednesday morning, I have four hours of dedicated mentorship with a board-certified orthopedic therapist. Together, we will see one initial evaluation and five follow-up appointments. For OCS exam preparation, our mentors and residency staff set up live patient exams and bi-quarterly written exams. Additionally, we attend continuing education courses once per month on Sundays.
How has your residency helped you, and what have you learned?
The residency has helped me to be more detailed and efficient in my approach with patients. I've learned to dive deeper into a patient's condition with considerate listening and interviewing strategies throughout the entire plan of care. Consistency in this area now informs my practice significantly as it provides the basis for a more tailored physical therapy experience.
I've also had the opportunity to employ new treatment and examination tools, such as biomechanical screening and orthotic fitting and prescription. The program has been of benefit outside of the clinic as well to improve my comfort level with teaching and presenting material. We recently put together a continuing education course for physical therapy assistants that was very well received.
What do you enjoy most about your residency?
What I enjoy most about residency is having access to feedback in real time. It's like having someone hold up a mirror to your practice so that you can see which areas you've been excelling in and which areas you need to spend more time working on. I also really enjoy the opportunities for networking with other therapists and physicians. I now have a growing list of peers who I can contact to bounce ideas off of or share information.
What's the toughest part about your residency?
The toughest part of the residency has been incorporating all of the new knowledge and skills that we are exposed to into our treatments. Oftentimes, we want to immediately employ new strategies based on feedback or learning sessions, but it takes time to develop different habits in your practice. Not to mention that some techniques we learn are only appropriate for a small portion of the patient population. However, something that helps me is taking time to reflect and think about what I may have done differently in prior interactions.
What advice would you give to a prospective DPT resident?
I would advise prospective DPT residents to develop a good handle on what motivates you as a clinician. This is important for two main reasons. The first is that it will guide you in selecting the most appropriate program for you. Each residency program has its own approach (for example, some are focused more heavily on manual therapy, research, or clinic management) that will impact the experience and education. The second reason is that it will help you to stay committed and follow through with the additional obligations that come with completing the program.
Neurologic PT Residency: A Day in the Life of Uzair Hammad
What does a typical day look like at your residency program?
Clinical Days
In my residency, I work 32 of my 40 hours clinically—so four days in the clinic.
As part of my program, I work in different settings (e.g., acute care, ICU setting, inpatient rehab, outpatient rehab). When I initially started in each setting, I would usually get to work an hour to 30-minutes before the day started. I would spend 30 minutes doing a chart review and going over any knowledge that I needed to review to perform that day. As a resident in my program, you have three hours minimum of mentorship hours weekly—though I had a lot more. I was always being asked questions, so I always wanted to make sure I was ready.
They ramp you up like any new hire—but quicker. A new hire has 90 days to ramp up; I had maybe two weeks, three weeks. During that time you get one-on-one mentorship, so it's easier to ramp up quickly. Once you're ramped up and the onboarding process for the setting is finished, you get more typical days.
On a typical day, I get to work around 7:30 AM, and my work day starts at eight, when I see my first patient. I have a full caseload like every other therapist at the clinic—but every day, I have one hour blocked off for mentorship. In the outpatient setting, I'll treat my patients from eight until 12 o'clock. I'll have my lunch, and then at 1 o'clock, my mentor and I will sit down and talk about patients. I typically get off of work around 5:00 PM. Then I'll come home, eat dinner, and spend an hour reviewing for my weekly lecture.
Didactic Days
One day a week is for didactic learning, where I receive a four-hour lecture and then I provide a four-hour lecture to DPT students. I wake up at 8 o'clock and I start lecture with the professor at UCF at 9 o'clock. That usually lasts two to three hours; I have a lunch break at 12:00 PM, and then I head over to campus to either assist in or teach a neuro course. So, sometimes that's a lab course; sometimes that's a lecture on a specific topic.
Your days are very similar to a normal clinician as far as your day-to-day at work goes. Except you do have to spend a little bit of extra time preparing for your didactic days.
How has your residency helped you, and what have you learned?
I've learned a lot about myself, and I've learned about my capabilities. I've developed more confidence in myself throughout this process.
When I was graduating, I was already a pretty good clinician; I stood out during my clinicals and I would be labeled as a good entry-level new grad. As I started treating these neurologic populations, I started to realize how much I really don't know. But I also more importantly realized how much people are willing to help you as long as you're willing to ask. I think that's something foundational that I will take forward—never being afraid to ask for help and knowing that there's no such thing as a dumb question.
When I originally came into residency, I thought that I was expected to know everything off the top of my mind, and that my mentors—who are leaders in the field—would know everything off the top of their minds. And I quickly realized how untrue that was. That's allowed me to be more confident with not knowing something, as long as I'm willing to do the work required to look it up.
What do you enjoy most about your residency?
I truly feel like everyone around me—not just my direct mentors, but my colleagues—are eager to help me and teach me to excel. Everyone is always reaching out to make sure you're doing okay, providing you with opportunities, being a resource for you. The reason that's been the most fun and the most exciting for me is that I already feel like I bring a lot of good and positive energy to my practice, but when everyone around you is trying to facilitate your growth in the same manner, it really helps you strive and feel supported. It makes for a fun learning experience! And it's been really cool to see myself become a clinical specialist over just one year when I know it typically takes longer than that.
What's the toughest part about your residency?
You are thrown in the fire, and you are expected to get your footing really quickly. Yes, there's support there, and no one's trying to make you fail, but there is this expectation to excel more than an entry-level PT—more than your peers who just graduated with you. That pressure and stress can start to pile up.
When I first started my residency, one of my mentors had done a residency before. And I remember looking at him a month in, exhausted, saying "how am I supposed to do this for a whole year?" Because you're not only treating patients all day—you also need to come home and study because you're treating specialized and complex patients. You're expected to know things a specialist would. His reply was, "Just accept the fact that this is going to be the busiest year of your life." And I did, and that has made everything a lot better. It's a different beast in the sense that PT school is a lot of didactic work and tests and memorizing—but with residency, you're learning on the fly, and you're pretty much building the plane as you fly it. It's one of the most valuable challenges I've gone through.
What advice would you give to a prospective DPT resident?
Ask yourself why you want to do a residency. Once you've answered that question—and if you like your answer—move forward with it. You will not regret your decision. Yes, it's hard, but you can do it, and you will be better off for it. I wholeheartedly believe that I've accelerated my career by at least five years because I haven't had to make all the mistakes that my mentors have made who've practiced for 20 years. I've gotten to learn from their mistakes.
If this is something you really want, and if this is a specialty you truly see yourself becoming good at and wanting to specialize in, don't let any self-doubt hold you back from doing it. You're gonna have help throughout, and you're gonna get it done, and you're gonna be better off for it.
When times are really hard, because they will be, you will get to look back on your "why." And once you remember why you're doing what you're doing, everything becomes a little bit easier because you remember why you started.
---
Physical therapy residencies may be challenging and time consuming—but they're also wildly rewarding and chock full of professional opportunities. Tenacious PTs who are up for a challenge, take note!

Rizing Tide Team, Nanami Mano, DPT, Stephon Moise, DPT and Uzair Hammad, DPT