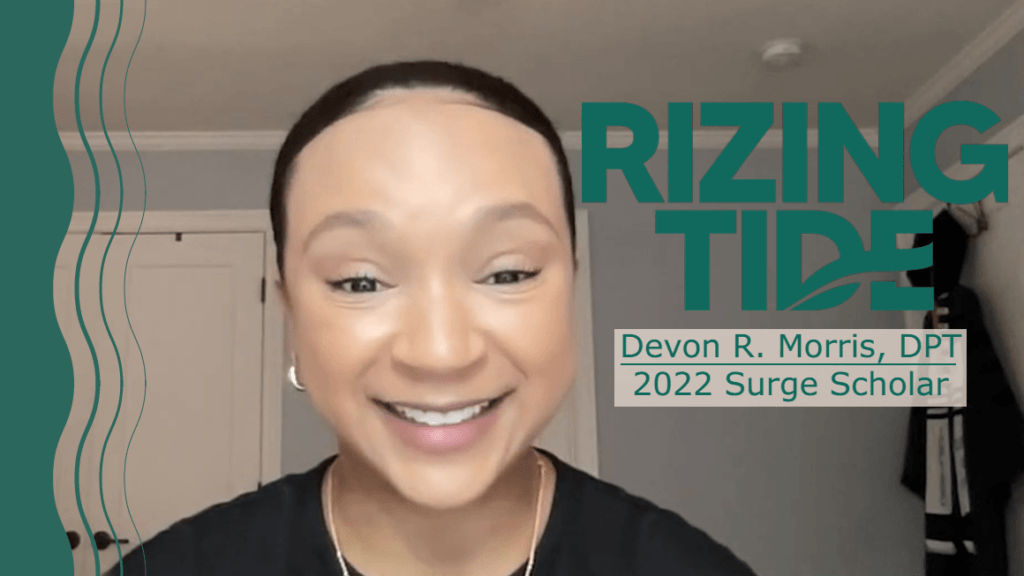 Putting Orthopedics on the Map: Meet Rizing Tide Scholar Devon Morris
This is the eleventh installment of the 2022 Rizing Tide Lighthouse Series: a series of blogs and video interviews that spotlight our exceptional scholars. Stay tuned for the next installment!
Devon Morris's love for sports and her unwavering commitment to improving the lives of athletes defined her occupational journey. Her academic path was rigorous—after completing an accelerated Doctor of Physical Therapy (DPT) program (while she actively engaged in PT professional groups), she immediately enrolled in an orthopedic residency at Emory University. But Devon's grit and passion for PT helped her shine bright, and she became one of the distinguished recipients of the 2022 Rizing Tide Surge scholarship.
Devon's interest in physical therapy blossomed at a young age, fueled by her active participation in soccer and football during high school. Having encountered physical therapy herself due to injuries sustained during her football games, Devon's career path solidified before her eyes. She felt a drive to work with athletes and sought a comprehensive understanding of orthopedic conditions to effectively support them. "My personal experience with physical therapy during my own injuries made me realize the impact I could have on athletes' lives," Devon says. "I wanted to focus on orthopedics to provide tailored care to athletes and help them achieve their goals."
Devon completed her DPT at Ithaca College in upstate New York. The allure of an accelerated six-year program—coupled with an opportunity to play soccer—drew her to the college despite its distance from home. Soon after graduating, Devon embarked on her residency journey, driven by her desire for specialized knowledge and mentorship. Recognizing the generalist nature of DPT education, Devon sought out a residency program that would refine her skills, provide her focused mentorship, and bridge any gaps in her knowledge left by conventional education methods.
"After completing my DPT, I felt the need to further develop my skills and gain specialized knowledge. Residency was the perfect opportunity to receive mentorship from experienced clinicians and become a more well-rounded physical therapist. It was important for me to bridge the gap between theory and practice," says Devon.
When selecting a residency program, Devon placed great importance on mentorship. She yearned for guidance and the ability to bounce ideas off experienced professionals—hoping to seek advice from seasoned therapists when dealing with complex patient cases. Moreover, Devon sought both unstructured and structured mentorship opportunities. She found all this in her current residency, where she receives invaluable mentorship from her main mentor and program director.
Outside of her residency, Devon involves herself extensively with the American Physical Therapy Association (APTA)—a habit she cultivated during her time as a student. In school, she served on the national student board and became the first student member of the PTJ editorial board. Through her APTA engagement, Devon developed invaluable leadership skills, expanded her professional network, and nurtured a strong support system. She plans to continue her involvement with the APTA in the future, recognizing the importance of staying updated on industry developments and contributing to a supportive community of physical therapists. Devon says, "Being involved with the APTA allowed me to grow both personally and professionally. It provided me with a platform to connect with like-minded individuals, learn from experienced therapists, and contribute to the advancement of our field. I look forward to continuing my engagement and giving back to the physical therapy community."
Devon is thrilled to hold the title of Rizing Tide Surge scholar. To her, this distinction is not just an honor but also a tremendous source of support. It fills her with a profound sense of pride to have such a robust support system backing her during her residency and as she pours her heart into her work. "It's a great honor to have received it, and I'm just going to continue to do my best to represent it in the best way possible."

Rizing Tide is a scholarship program designed to empower a new generation of BIPOC leaders in the physical therapy profession. We partner with PT and PTA students, PT residents, and industry leaders to advance diversity and inclusiveness in the physical therapy workforce and inspire better—and more accessible—patient care.