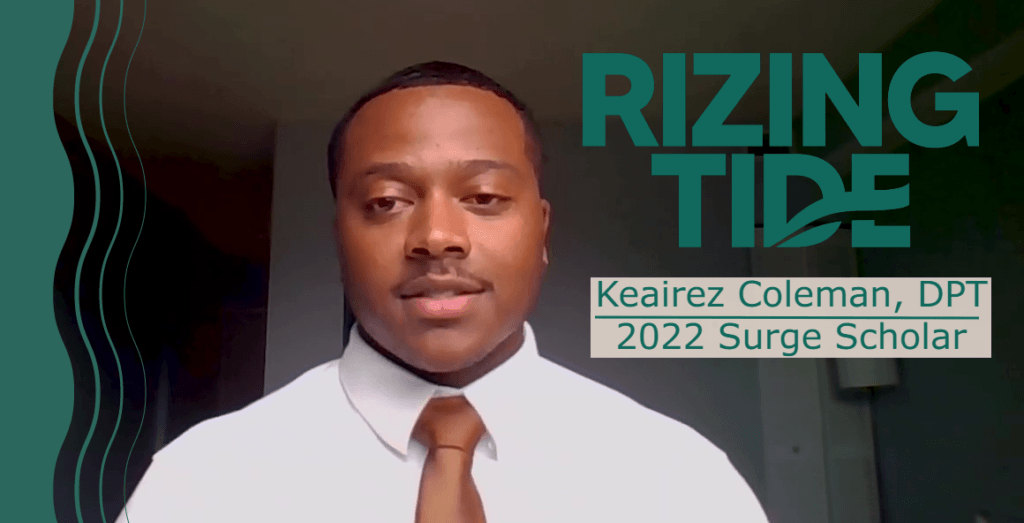 Empowering Athletes and Embracing Diversity: Meet Rizing Tide Scholar Keairez Coleman
This is the twelfth installment of the 2022 Rizing Tide Lighthouse Series: a series of blogs and video interviews that spotlight our exceptional scholars. Stay tuned for the next installment!
Keairez's journey into the field of physical therapy sparked from a keen observation and a desire to help others. Growing up in an area with limited access to medical resources and athletic support, Keairez often witnessed the need for skilled and dedicated professionals in the field. "I had a lot of injuries myself, and our team had injuries as well—which were not properly handled," Keairez explains. This realization motivated him to pursue a career in physical therapy—and his ambition, passion, and drive led him to pursue a sports residency at the University of Miami.
For Keairez, sports was not just a recreational activity, but a field that provided numerous opportunities—including scholarships and personal growth. This love for sports (combined with the desire to address the needs of underserved communities) led Keairez to choose sports physical therapy as his practice area. "I saw a need, and I decided I wanted to stay in sports because I feel like sports is a field that I love," Keairez says.
While in school, Keairez recognized that he needed more knowledge than his program offered. He was learning general physical therapy concepts, but didn't feel fully prepared for the unique challenges of working in the sports field. Seeking to enhance his clinical reasoning and decision-making skills, Keairez opted to attend a sports residency program, envisioning it as a path to professional growth and specialization.
When it comes to selecting a sports residency program, Keairez highlights three essential qualities for prospective residents to consider. First, the curriculum should align with your interests and goals. "You want to look at what type of opportunities are you going to be given in the sports field, and will you just be observing or will you really be immersed in and be hands-on in any area that you want to work in," Keairez says. Second, the program should offer hands-on experiences in sports physical therapy, going beyond mere observation. And finally, a well-fitting work environment is crucial for a positive and rewarding residency experience. "I want to be in a good work environment and surrounded by people who I feel comfortable with and that I can get along with," says Keairez.
Keairez's residency at the University of Miami offers a unique and immersive experience in the athletic training room. Working closely with Division I athletes and athletic trainers, Keairez gained valuable insights into the world of collegiate sports. "I get a full immersion into the collegiate Division I sports world and really get hands-on experience—and not just watching," Keairez says.
For PTs contemplating a residency program, Keairez offers this valuable advice. "Be yourself and don't be afraid to ask questions because just as they're interviewing you. You're interviewing them as well." He also says that knowing your "why" and what you aim to achieve from the experience is essential—as well as bringing authenticity and good questions to the residency interview. Additionally, residency programs come with pros and cons, so he urges prospective residents to carefully consider the personal and professional implications of attending one.
Keairez is passionate about bringing more diversity to the physical therapy industry. "Diversity is important because you want to be able to work with somebody who you can identify with from a patient's perspective," he says. When patients can identify with their therapist, it leads to better rapport, trust, and outcomes. Embracing diversity and striving for representation are essential goals for Keairez.
As a Rizing Tide Surge scholar and community member, Keairez holds a deep sense of pride. "Being part of a large group with a like mindset of trying to increase diversity in all facets of the profession is big," Keairez says. This is especially so when said community provides opportunities for collaboration and partnership to further a shared goal of promoting diversity in sports physical therapy and beyond.
Keairez's post-residency career path involves spending time in collegiate or professional sports settings. Keairez aims to utilize his experiences to mentor and empower young athletes, just as his coaches and trainers once did for him. "I want to be able to do the same for other young athletes growing up," says Keairez. As he continues to pave the way for a more inclusive future, Keairez's efforts will undoubtedly empower athletes and aspiring PTs alike.

Rizing Tide is a scholarship program designed to empower a new generation of BIPOC leaders in the physical therapy profession. We partner with PT and PTA students, PT residents, and industry leaders to advance diversity and inclusiveness in the physical therapy workforce and inspire better—and more accessible—patient care.